Mohammed Shami loses cool over Baap Kaun Hai taunts. Pakistan won their maiden ICC Champions Trophy and complete the treble of major ICC tournaments by 180 run against India which created history. After 2009 it was the first time Pakistan won an ICC event and it was also a record margin of victory in ICC events in the final.
Following the result, there was despair and joy in India and Pakistan. The Pakistani fans had a field day on social media, celebrating the result but indulging in plenty of mocking and vitriol. One such incident has come to light during the final.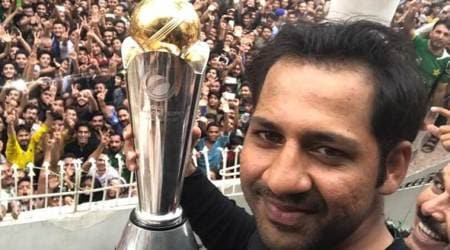 A video can be seen on Twitter where india cricket team can be seen going back after losing the match and Pakistani fans are disgracing them. One fan, in particular, shouted 'Baap Kaun Hai' (Who is your father) to Mohammed Shami when he passed by. Hearing this, Shami stopped and turned back as he looked to confront the fan. However, MS Dhoni controlled the situation.
The 'Baap Kaun hai' comment wasn't something new as it was trending already before the start of the final between India and Pakistan. Several celebrities like former India cricketer and current commentator Sehwag as well as Bollywood actor Rishi Kapoor had pointed Pakistan's poor record in ICC events against India and had used the father analogy to put their point through. This also lead to Indians troll over Pakistan on father's day.
For more news updates Follow and Like us on Facebook