Rivian Reveals All-Electric R1T and R1S, Blows Minds At LA Motor Show 2018
Rivian stayed under the radar for almost a decade, has four facilities in the US including an ex-Mitsubishi manufacturing plant in Normal, Illinois.
The R1T pickup truck and R1S SUV ride on a 'skateboard' platform which can house any of three battery packs.
The R1T and R1S are powered by four motors, one on each wheel, developing 710PS of combined power and 1120Nm of torque.
Both the vehicles have a claimed 0-100kmph time of around 3 seconds, range of over 600km per full charge.
Rivian is accepting bookings for both the R1T and R1S, first deliveries should begin in 2020 they say.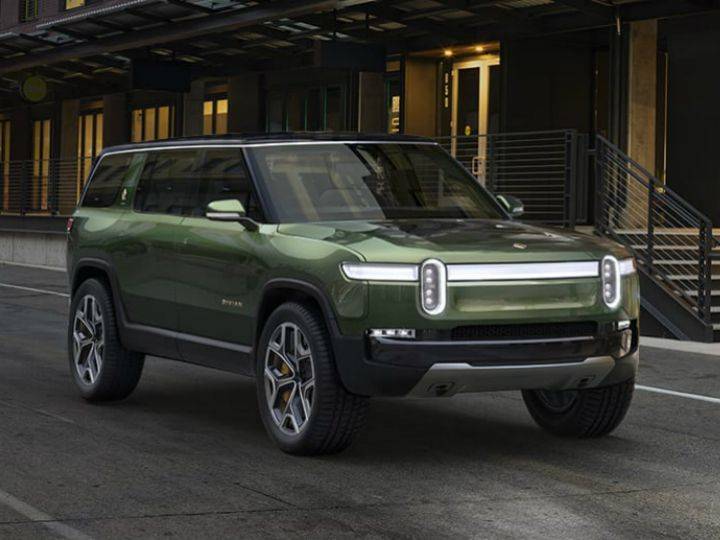 You may not have heard about Rivian Automotive if you have not been following the developments in electric mobility in the US. Started up in 2009, the all-electric vehicle manufacturing startup has been slowly setting up its operations for a formal launch in 2020, and it will begin the proceedings with two rugged 'adventure vehicles' – the R1T and the R1S. Showcased at the LA Motor Show 2018, both the cars have generated quite a lot of interest.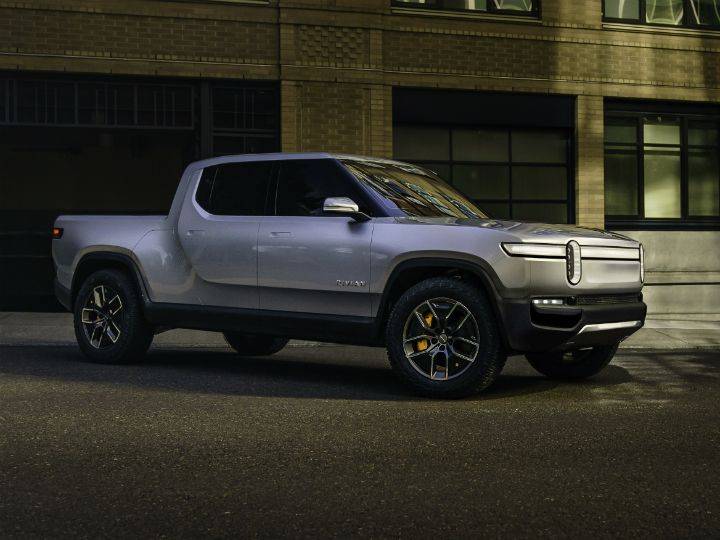 The R1T is a dual-cab 5-seater pickup truck while the R1S is a 7-seater SUV, both based on a skateboard electric platform, offered with three different battery packs and powered by a four-motor AWD system. Both the vehicles look futuristic – their designs are still in the concept stage but are not too fancy to make it to production.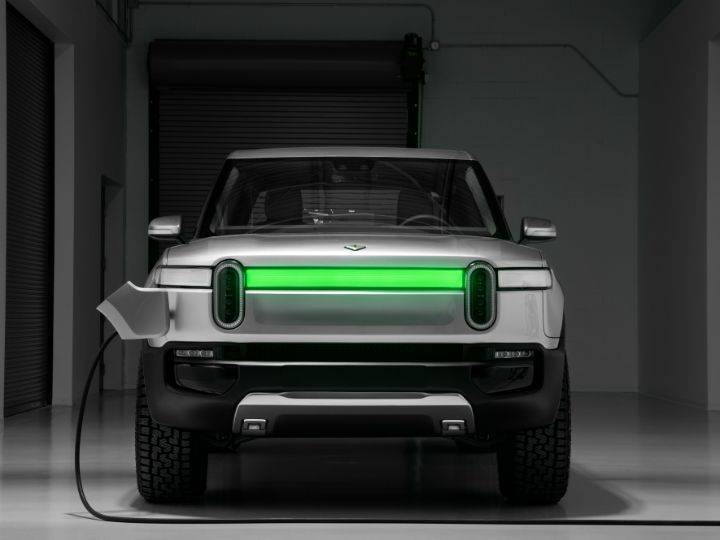 A highlight of the design is the HUGE LED slab at the front which doubles up as a charge indicator!
Here's how the R1T compares to the Isuzu D-Max V-Cross
| | | |
| --- | --- | --- |
| | Rivian R1T | Isuzu D-Max V-Cross |
| Overall Length | 5475mm | 5295mm |
| Overall Width | 2015mm | 1860mm |
| Overall Height | 1815mm | 1840mm |
| Wheelbase | 3450mm | 3095mm |
| Ground Clearance | 200-360mm | 225mm |
| Bed Dimensions (LxW) | 1400mm x 1385mm | 1485mm x 1530mm |
Here's how the R1S compares to the Ford Endeavour
| | | |
| --- | --- | --- |
| | Rivian R1S | Ford Endeavour |
| Overall Length | 5040mm | 4892mm |
| Overall Width | 2015mm | 1860mm |
| Overall Height | 1820mm | 1837mm |
| Wheelbase | 3075mm | 2850mm |
| Ground Clearance | 205-365mm | 225mm |
Both the R1T and the R1S pack in enough juice in the largest 180kWh battery pack to have a claimed maximum range of over 400miles, that is 644km+! Enough to get you from Gurugram to Udaipur in one go, if you can keep yourself from mashing the accelerator pedal. A quick 30-minute charge at a fast charging station adds an additional 322km of range.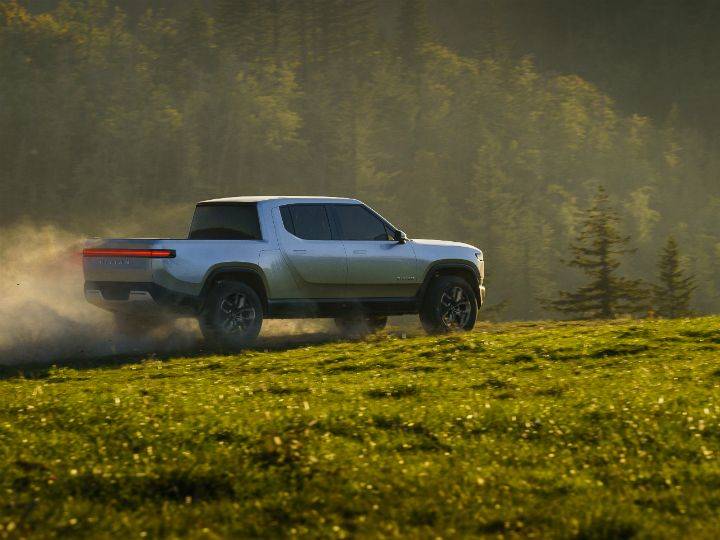 Why would you mash the pedal in a 2.6-tonne vehicle? With 710PS of combined maximum power and 1120Nm of combined instant torque, the Rivian R1T and R1S have a claimed 0-100 time of 3.2 seconds! It can also cruise at speeds as high as 125mph (201kmph).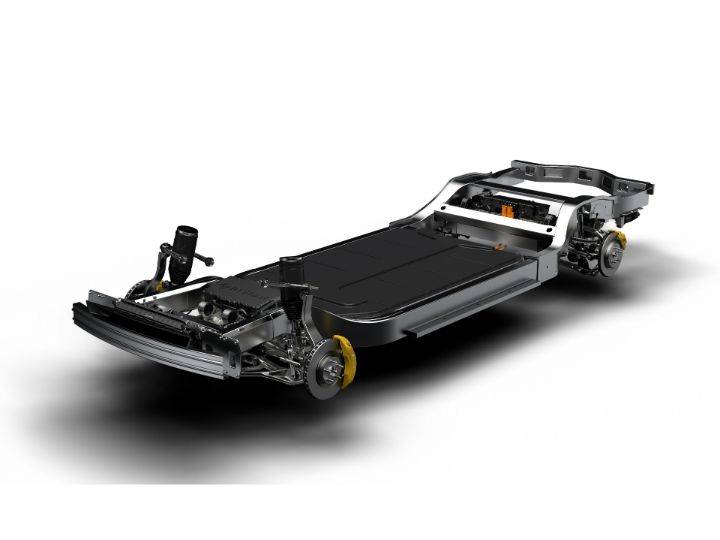 On the other hand, the R1T has the capability to tackle most off-road conditions. A motor on each wheel allows it to crawl through slippery terrain with maximum grip, the underbody is smooth without any components which could be damaged on the go, there's also an air-suspension which can increase the ground clearance by 80mm to 360mm. You wouldn't normally take something electric near water, but the Rivian R1T and R1S have a claimed water wading depth of 1 metre!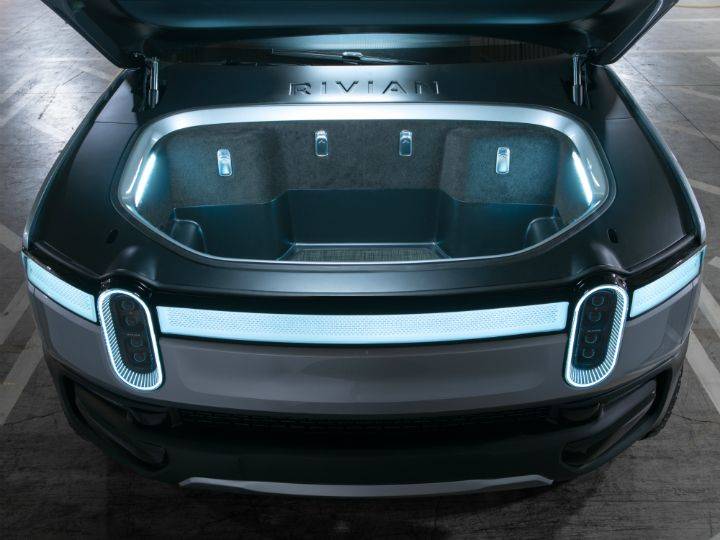 Both the R1T and the R1S boast of 'class-leading' space for a pickup truck and an SUV, respectively. The skateboard platform has allowed the company to design a lot of storage spaces in both vehicles. Both of them have a 330-litre frunk (front trunk).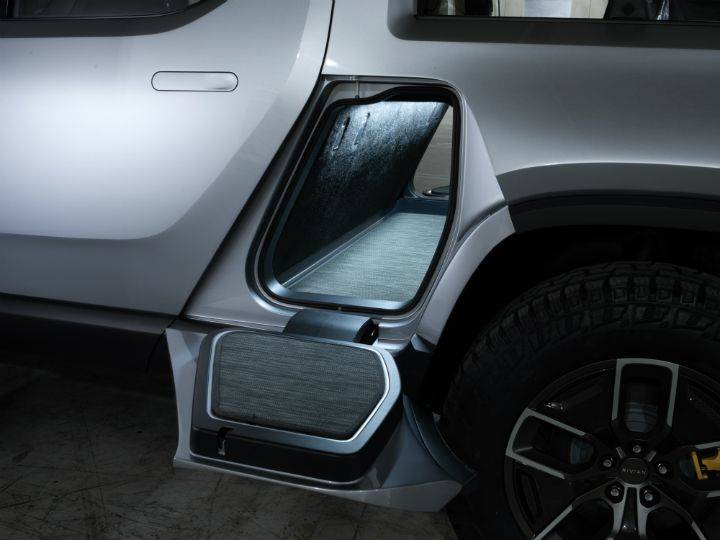 The R1T has an innovative 'gear tunnel' behind the cabin and in front of the rear wheels which can hold irregularly sized luggage sideways.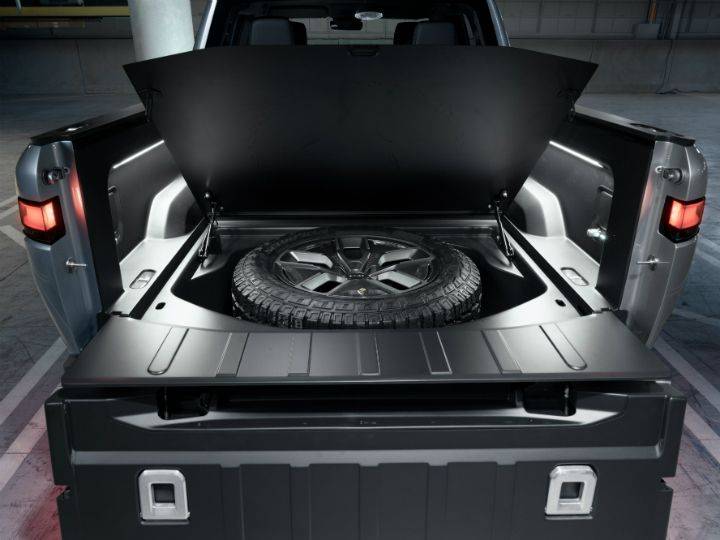 The bed of the R1T pickup can be configured to hold items of different sizes in a myriad of ways, including using folding racks to place tents on the bed when outdoors. Meanwhile, the R1S' rear seats can be folded down flat for added loading space.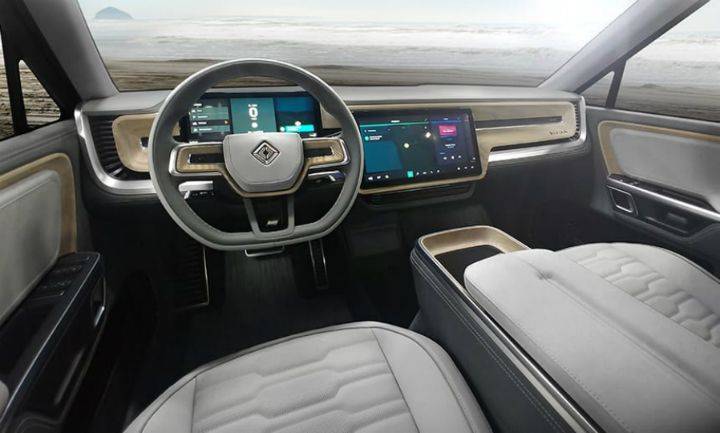 Inside, the R1T and R1S are as futuristic look as it can get, large digital screens fill the dashboard. The dashboard and some other surfaces feature naturally-sourced wood, it especially looks good the on the dashboard and gives the vehicles a premium feel.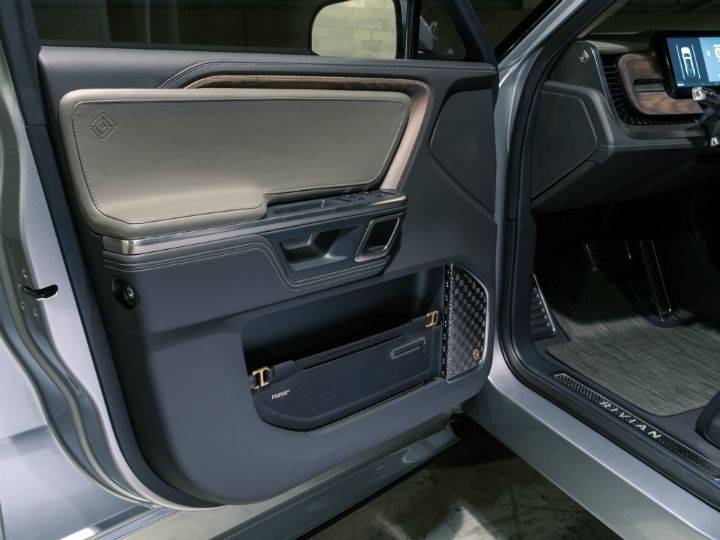 Surfaces which will be regularly touched, like the door pads and armrests, have materials used on sportswear items for longevity.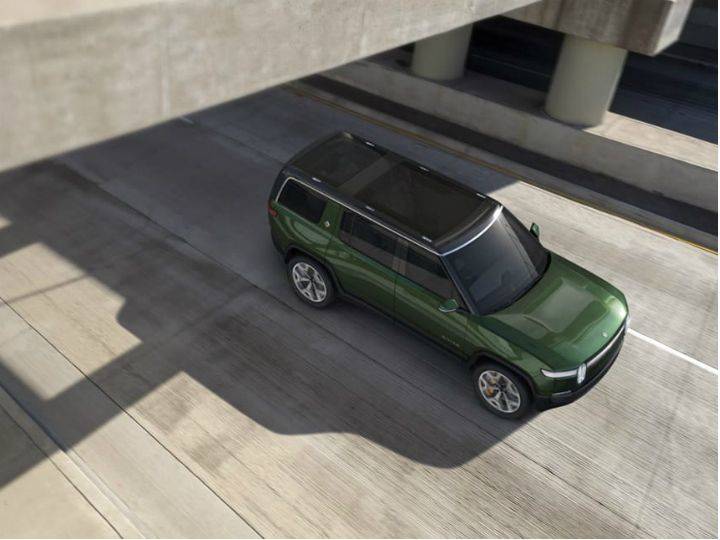 The Rivian R1T and R1S will go on sale in 2020, hopefully, with prices starting at $61,500 (Rs 42.83 lakh) and $65,000 (Rs 45.27 lakh). The vehicles will be manufactured beginning 2019, hopefully, at a former Mitsubishi plant in Normal, Illinois which was acquired by Rivian in 2017. Bookings are being accepted for both of them in the US with a deposit of $1000 (Rs 69,645).
For more news updates Follow and Like us on Facebook