Volkswagen has introduced a new add-on warranty across its entire model range in India. The add-on warranty covers the vehicle post its standard (2 year/unlimited km) or extended warranty (2+2 years or 2+3 years, whichever applicable) but only upto 7 years. The add-on warranty, if bought, will be valid for the duration of one year only and will have to be renewed to continue coverage.
All existing VW owners can opt for the add-on warranty. However, one will have to buy it within a maximum of 15 days post the expiry of the standard or extended warranty. The add-on warranty will cover the car for 1 year/20,000km only.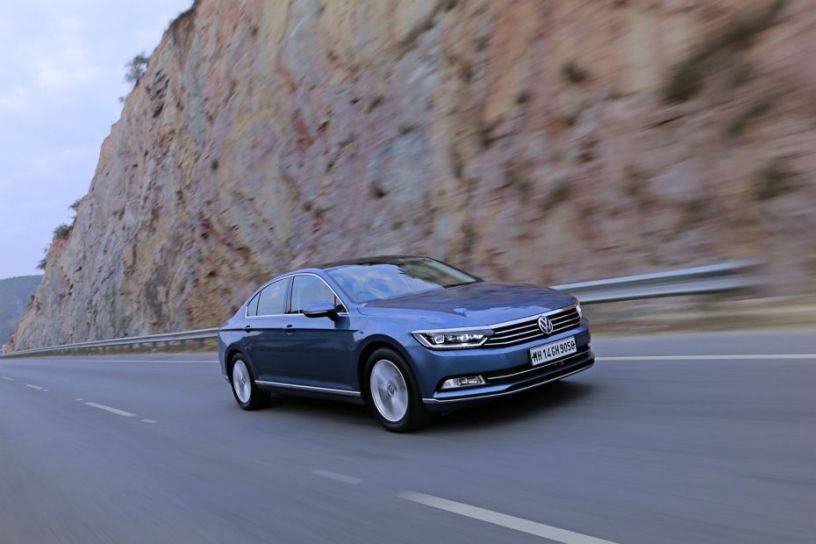 The carmaker has not announced prices of the add-on warranty for the Polo 1.0, Ameo 1.0, eighth-gen Passat (the one on sale currently), Tiguan and the Beetle 1.4 TSI yet.
Only vehicles with an odometer reading of less than 1,25,000km can be covered under the add-on warranty package

To be eligible for the add-on warranty, the buyer should also ensure that the vehicle has undergone the scheduled services as per the carmaker's guidelines in the service schedule booklet with a proper record in the service history log

In case of change in vehicle's ownership, the remaining/balance add-on warranty period/km would be effective for the new owner. However, only two ownership changes are allowed

The add-on warranty will be available for privately owned vehicles only and is not applicable on taxi/commercial registration vehicles
Also Read: Volkswagen T-Cross Boot Space Officially Revealed
Add-on warranty coverage
Although the terms and conditions of the add-on warranty look similar to those of the standard and extended ones, Volkswagen says that the add-on Warranty is not a mirror image of any of the two. So, the coverage under add-on warranty may differ from standard /extended warranty. Price: Prices of the 1 year add-on warranty start from Rs 12,348 for the 1.2L Polo and go upto Rs 61,621 for the old Passat.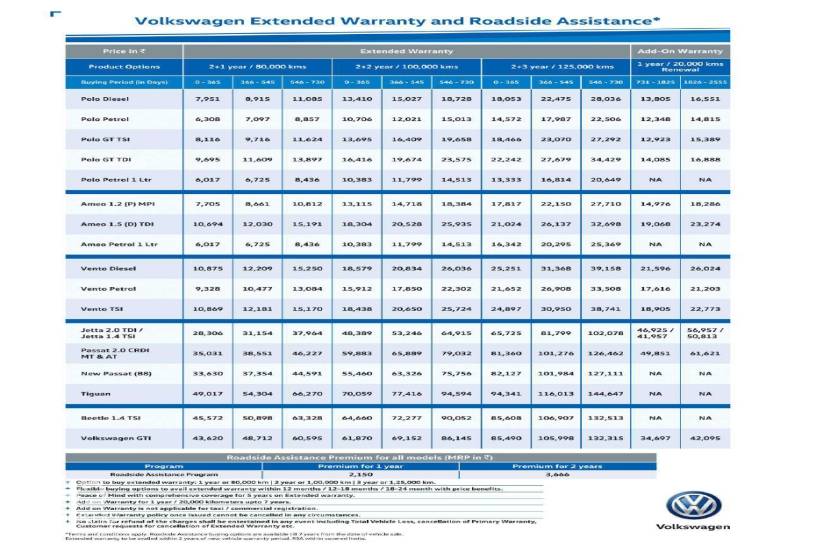 Volkswagen is not the only carmaker to offer such a warranty. Honda also offers a similar warranty option called Anytime warranty. Under this, the carmaker offers an add-on warranty of 1 year/20,000km over the standard and extended warranty. The eligibility criteria for this program is that the vehicle should be less than 7-years old (from policy start date) and the odometer reading should be less than 1,00,000km. Honda provides a standard warranty for a period of 2 years or 40,000kms, whichever is earlier, for the Brio, Jazz, Mobilio & CR-V and 3 years with unlimited kilometres for the Amaze, City, WR-V, BR-V and Accord Hybrid. The extended warranty of up to 5 years/1,00,000km or unlimited kilometres (depending on the model) is offered at an extra price.
Source: Car Dekho
For more news updates Follow and Like us on Facebook