Salman Khan, who is alive in the promotion of his forthcoming film TubeLight, will have seen you ride a bike on the streets of Mumbai. But at night he was seen roaming in auto rickshaw. During this, film maker Ramesh Taurani also appeared in auto Rickshaw. According to the media report, Salman khan reached Mehboob Studios in Bandra, Mumbai. After the ongoing interview for the promotion of tube lights, Salman went out on foot for the house with film maker Ramesh Taurani. As soon as Salman Khan went ahead, he started rushing.
Salman gave a smile to everyone and then in an exhilaration, he called an auto rickshaw driver standing nearby and asked to go to the Galaxy apartment, after which Salman Khan and producer Ramesh Taurani went to their house sitting in a rickshaw.Before the Auto Ride, Salman reached Mehboob Studios for shooting. Where Katrina Kaif was already present for the promotion of her film 'Jagga spy'.In such a case, when Katrina came to know that Salman has come, she went straight to meet him.After Salman, when Katrina went to leave Katrina to her car, she saw him hugging. However his bodyguards were completely covered to protect both of them from the camera.Salman, meeting with Katrina, came home with the auto. Salman-Katrina is working with the upcoming movie 'Tiger Jinda Hai'.
But after getting down from the auto, Salman did a job that did not even have the idea of ​​Autowala. According to the news, the distance from Salman's house to Mehboob Studios is about 800 meters. Whose auto fare was less than Rs 50, but Salman gave 1000 rupees to Autowala for this small trip.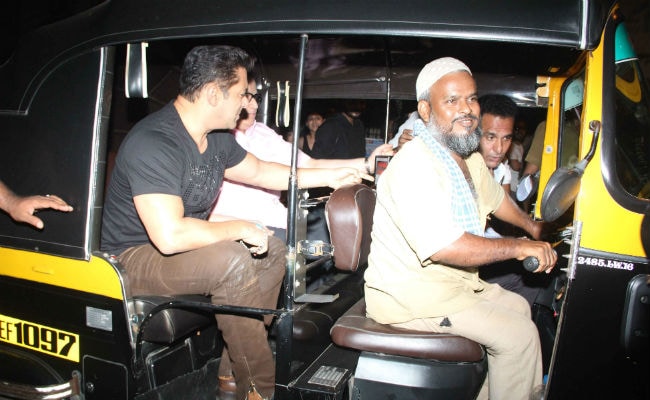 For more news updates Follow and Like us on Facebook