Courting a variety of controversies cops in the state are facing suspension, arrest, forced retirement and frequent transfers at all levels
Arrests, suspensions, registration of cases, compulsory retirements and also the frequent transfers of the police officers at all levels have become the regular part of news reporting in Punjab these days. Apart from this, a cold war between the offices of Chief Minister and the Director General of Police is now an open secret. If all this is seen in totality, Khaki is undoubtedly losing its sheen which is making people lose faith from the state's law enforcing agency.Just few days back, a 2007-batch IPS officer Inderbir Singh, who was among the three-member Punjab cadre police officials' panel for being appointed as the next SSP of Chandigarh, along with four of his subordinates including a DSP, landed in an extortion case, allegedly committed when he was posted as the top cop in Sangrur district.
During the preliminary investigation, conducted by Inderbir's successor Mandeep Singh Sidhu, a PPS officer, the crime involves a sum of nearly Rs 19 lakh that they all allegedly extorted from two farmers while threatening to implicate them in a murder case. Sitting SSP had even recommended an FIR against all five cops with also suggesting a deep Vigilance probe, after finding them guilty in his initial probe. Now getting shunted from the field, they are all facing VB inquiry.
The incident not only put a blot on the uniform of an IPS officer but also snatched a chance to get appointed as SSP Chandigarh, which is a prestigious post for Punjab cadre IPS officers. Further, a young PPS officer Harinder Singh Mann, whose name was recommended by the DGP for Gallantry Award for his performance during the encounter of infamous gangster Devinder Singh Bambiha 'Sharpshooter', has been booked for sexually harassing a female teacher of Bathinda district. Mann is currently a member of Chief Minister Captain Amarinder Singh's prestigious Special Task Force (STF).

Just two days back, an SHO, ASI and three constables posted at the Charik police station in Moga district were suspended for allegedly torturing a youth and taking bribe from him. Further, a head warder at Central Jail Bathinda was recently arrested with hundreds of tablets of habit forming banned drugs. Interestingly, the shady cop was not only involved in supplying it to the inmates but he was also an addict, as learnt.
Few days ago, a police team had raided at an Akali worker's house in Lambi assembly constituency. During the raid, which was to check the storage of illicit liquor, policemen manhandled the elderly man and he died on the spot. As the Akali Dal workers and leaders came on roads, the Chief Minister had to order the registration of case against the guilty cops and also following his orders, the ASI who was heading the team got arrested by the same evening.
In the series, on March 26, SHO Satnampura Police Station in Phagwara was suspended on the charges of shielding a drug peddler. A case was also registered against him for accepting bribe. Further, against the promise of giving congenial atmosphere at police stations and headquarters, an elderly person on Thursday died at Bathinda while waiting for his turn at the office of Superintendent of Police (H).
Earlier, on March 23, Finance minister Manpreet Badal himself caught on camera a traffic cop accepting bribe in Ludhiana district. He shot a video of the episode and forwarded it to Ludhiana police commissioner. But as the cop in question belonged to Khanna, the SSP there suspended the cop in question. As the cops are losing their grace, on April 23 an alleged drug peddler tried to run his car over an ASI of the Anti-Narcotics Cell in New Janta Nagar area of Ludhiana.
Meanwhile, Punjab government has recently sent two senior PPS officers Salwinder Singh and Charanjit Singh Sharma on compulsory retirement. The two were facing lot of criticism from different quarters of society. Salwinder is the same SP whose name was once cropped up during Pathankot Airbase militant attack. Though NIA had given him clean chit, as learnt, Salwinder was facing several charges of sexual harassment.
Further, Charanjit Singh Sharma had courted controversy during sacrilege incidents when a police team, allegedly led by him opened firing at Sikh protesters at Behbal Kalan village in Faridkot district. Sharma desired to have extension after superannuation with the charges not yet been established against him but the CMO decided to send him home for him.The differences prevailing between the top functionaries of government are also discouraging the cadre at ground level.
Frequent transfers of officers at different positions are also being cited as the reason of lack of friendly relations between the CMO and DGP office. Numerous cops, who know the tricks to please the boss are getting posting of choice and while issuing the orders the power that be is not even minding the developments taking place in grave violation of service rules and policy.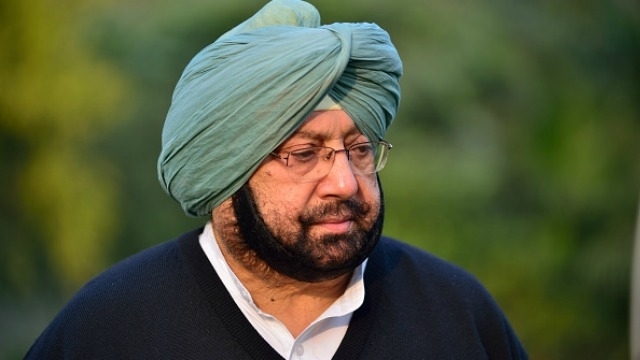 During the past one and a half month, since the new government is formed, there are some officers who have been shifted thrice and the list of senior police officers who have been transferred twice is quite lengthy. The transfer orders of four senior IPS officers IPS Sahota, Gaurav Yadav, Rohit Chaudhary and Hardeep Dhillon had triggered an internal war of sorts in Punjab Police, which is a no secret now.
Further, the orders related to an interchange among the offices of two DGPs GD Pandey and Mohammad Mustaffa were withdrawn before they assume the offices also exposed that political influence matters a lot. Mustaffa, while speaking to Daily Post, had admitted that it was his minister wife Razia Sultana who got the orders cancelled from the CM Amarinder Singh.
Apart from finding ways and means to check the cops inviting troubles for themselves and giving bad name to the whole department by landing into shameful controversies, Chief Minister of Punjab Captain Amarinder Singh, who is an ex-armyman, also needs to put an end to such indecisiveness at the top level which is leading to a confusion and commotion among the police officers in the state.
The Chief Minister has all rights to replace the state police chief but as Amarinder has opted to allow Badal-picked Suresh Arora to continue with the job, he now needs to believe in him and let him work with dignity without allowing his office building much pressure on him. And in return, the DGP must also prove himself by not only improving the law and order situation in the state, but also by cracking the mystery shrouding various high profile murders took place in Badal regime and nabbing the persons behind the sacrile.
For more news updates Follow and Like us on Facebook