New Honda Amaze 2018 Specifications Revealed. Honda's first outing with the Amaze didn't exactly set the charts on fire, with sales dwindling soon after its launch. However, the sedan is now back, with the express intentions of fulfilling all the shortcomings of its previous iteration.
That's because the upcoming sedan has to take on the Maruti Suzuki Dzire as before. However, it appears to be a daunting task now as the best-selling third-gen model of the Dzire certainly offers the most well-rounded package in the segment. Honda has revealed the specifications of the Amaze 2018 and here's what it packs to take on the Dzire, along with the Xcent, upcoming Aspire facelift, Ameo and the Tigor.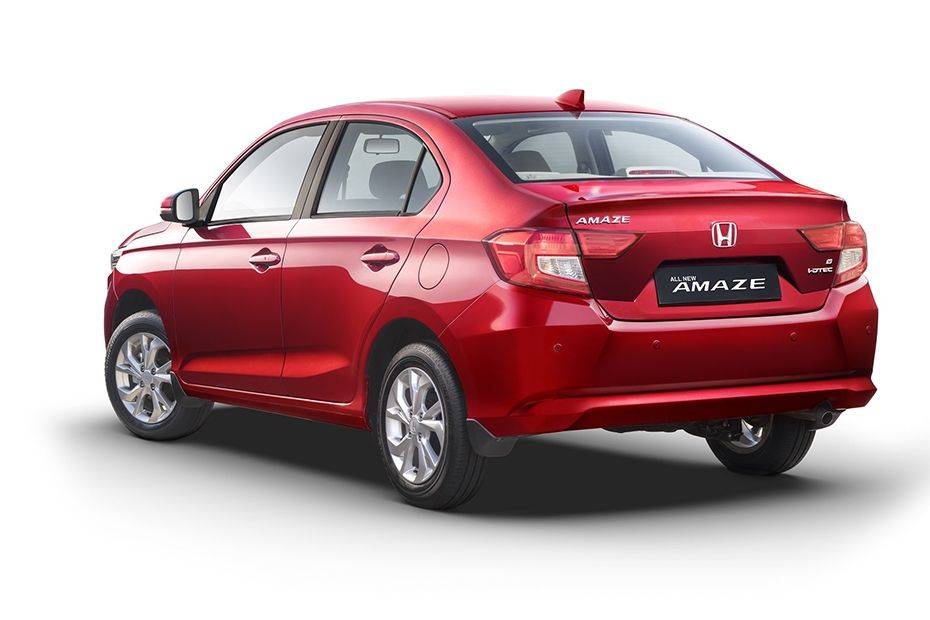 Variants 
The second-gen Amaze is available in four variants: E (base), S, V and VX (Top-spec), with both petrol and diesel engine options. Apart from this there are two automatic variants as well available with petrol and diesel engines in mid S and V levels. So that makes it a total of 12 variants in total.
Dimensions and Weight
| | | |
| --- | --- | --- |
| Dimensions | First-gen | Second-gen |
| Length | 3,990mm | 3,995mm (+5mm) |
| Width | 1,680mm | 1,695mm (+15mm) |
| Height | 1,505mm | 1,501mm (-4mm) |
| Wheelbase | 2,405mm | 2,470mm (+65mm) |
| Ground Clearance | 165mm | 170mm (+5mm) |
| Boot Space | 400 litres | 420-litres (+20-litres) |
Though it had to be under 4m to save taxes like before, the second-gen Amaze is longer, wider and comes with significantly increased wheelbase too. The overall height, however, has been marginally reduced, while the ground clearance has received a boost. At 420 litres, boot space is 20 litres more than the previous model and is the largest in the compact sedan space.
| | | |
| --- | --- | --- |
| Kerb Weight | First-gen | Second-gen |
| Petrol | 965kg (MT)/ 985 (CVT) | 924kg (MT)/ 945kg (CVT) |
| Diesel | 1075kg (MT) | 1023kg (MT)/ 1039kg (CVT) |
Thanks to the new platform, the second-generation Amaze is lighter than the previous model. Both petrol and diesel variants have shed weight in the range of 40-50kg.
Mechanicals 
The Honda Amaze carries forward the same 1.2-litre petrol and 1.5-litre diesel engine options as before with a standard 5-speed manual. There's an optional CVT automatic with the petrol as before. The petrol engine now develops 90PS (1199cc instead of 1198cc), 2PS more than the previous model. Interestingly, the diesel Amaze, too, is available with an optional CVT auto for the first time. However, it is a slightly detuned unit. Thanks to the lighter platform and new design, the mileage of both the petrol and diesel versions have improved.
Petrol 
| | | |
| --- | --- | --- |
| Honda Amaze Petrol | First-gen | Second-gen |
| Engine | 1.2-litre i-VTEC | 1.2-litre i-VTEC |
| Transmission | 5-speed MT/ CVT | 5-speed MT/ CVT (paddle shifters) |
| Power | 88PS (MT)/ 90PS (CVT) | 90PS |
| Torque | 109Nm (MT)/ 110NM (CVT) | 110Nm |
| Fuel Efficiency | 17.8kmpl (MT)/ 18.1kmpl (CVT) | 19.5kmpl (MT)/ 19kmpl (CVT) |
Diesel
| | | |
| --- | --- | --- |
| Honda Amaze Diesel | First-gen | Second-gen |
| Engine | 1.5-litre i-DTEC | 1.5-litre i-DTEC |
| Transmission | 5-speed MT | 5-speed MT/ CVT |
| Power | 100PS | 100PS (MT)/ 80PS (CVT) |
| Torque | 200Nm | 200Nm (MT)/ 160Nm (CVT) |
| Fuel Efficiency | 25.8kmpl | 27.4kmpl (MT)/ 23.8kmpl (CVT) |
For more news updates Follow and Like us on Facebook