Coins thrown in well by tourists stolen at Jallianwala Bagh. In a shocking incident, unidentified miscreants struck at the Martyrs' Well of Jallianwala Bagh and stole money, offered by visitors to pay obeisance to martyrs.
According to them, guard Gaya Prasad was heading towards his staff quarters when he noticed something unusual near the well. When he hurried there, he found a long rope hanging down the Martyrs' Well and an empty sack. Some coins pulled out by the accused were also lying near the well. The guard informed the Jallianwala Bagh Trust officials who called police. Police said the miscreants broke a ventilator window and used the mesh to pull out the coins and notes.
Police suspect that the miscreants gained entry by scaling the rear wall of Jallianwala Bagh, which is surrounded by residential areas. No CCTV cameras are installed inside the memorial. According to the reply to a recent RTI query, total collections from the well in the past 10 years have been Rs 12,571.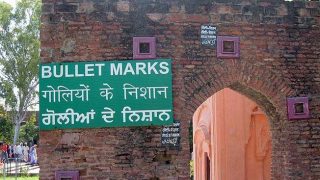 Jallianwala Bagh is a site of the April 13, 1919, bloodbath, where hundreds of people were shot dead by British, and now houses a memorial for the victims, several of whom jumped into the well to escape the bullets.
For more news updates Follow and Like us on Facebook