Jakhar appeals, Punjab farmers not to commit suicides. Congress Committee President Sunil Jakhar welcomed the Captain Amarinder Singh government's decision against 'Kurki' of land. It is friendly decisions for farmer to be taken by the government to rescue the state's beleaguered peasantry from the debt crisis; Jakhar thanked the Chief Minister for fulfilling his poll promise.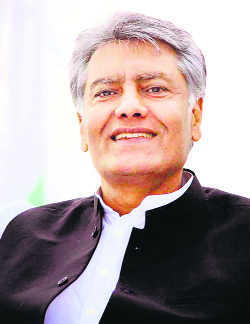 Captain Amarinder, finished Section 67-A of Punjab Cooperative Societies Act 1961, had done a huge service to the farmers of the state. He said the government's move to stop Kurki should be welcomed by all political parties. Jakhar hoped that State Government would also soon announce the impending farm debt waiver another poll promise of the Congress party. It would be another major step in providing relief to the farming sector.
Noting that the farmers of Punjab had been instrumental in making the country self sufficient in the production of food grains, Jakhar said the Congress government was committed to finishing off their debts and appealed to the farming community not to commit suicides.
He said, party's strong commitment to uplift the farming sector. Jakhar assured that his party and State Government would work cohesively to find lasting solutions to the problems of the farmers. HE said, changing trends in agriculture and the need to adopt these in order to make farming profitable.
 Jakhar said the Government needs to promote the idea of crop diversification, it has become necessary to break the wheat-paddy cycle. He stressed the need for the Government to come up with a policy decision to reduce the area under paddy cultivation and promote crops consuming less water. He also urged the Government to draw up a comprehensive roadmap to make farming more profitable by educating farmers to start producing more cash crops.
For more news updates Follow and Like us on Facebook