MP Meenakshi Lekhi trolled misspelling Swachh Bharat twitter. BJP MP Meenakshi Lekhi was trolled on Social Media after one of her pic became viral. In this photo, she is seen writing the work "Swachch" wrongly in Hindi. BJP MP's are famous for preaching others on using Hindi and keep cleanliness whereas their own MPs can't even write a small Hindi word.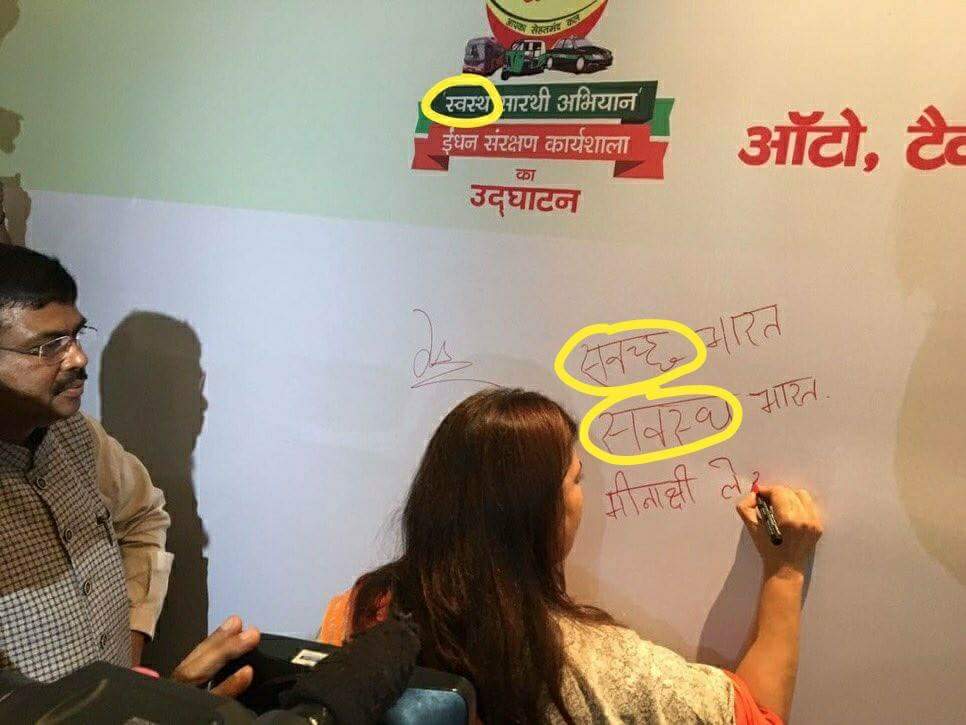 Bhartiya Janta Party (BJP) MP Meenakshi Lekhi has become a talking point after she failed to write Swachh Bharat in correct Hindi in an event in Delhi. The huge embarrassment for the BJP comes when the picture of Union Minister Radha Mohan Singh urinating in public has become viral.
The BJP MP had gone for the event organized by Indraprastha Gas Limited on Wednesday where she could not write "Clean India, Healthy India" in the Hindi language. The event was organized to aware people about pollution free vehicles and health of drivers.
The event was attended by Petroleum Minister Dharmendra Pradhan, Union Minister Harsh vardhan, Delhi BJP chief Manoj Tiwari. Last week, Union Minister M Venkaiah Naidu said Hindi is the national language of India and it is impossible to progress without the language.
"Hindi is our national language and it is impossible for India to progress without Hindi. It is unfortunate that everyone is after English medium; I am against Britishers but not their language. We should learn all languages, but by learning English our mindset is also changing, this is wrong, this is against the interest of the nation," Naidu said.
For more news updates Follow and Like us on Facebook