The 29th edition of the JK Tyre Monsoon Scooter Rally championship, which was organised by Sportscraft and held on August 26, saw a shift of location from Navi Mumbai to Sarul, a small village on the outskirts of Nasik. But the champion remained the same as Mumbai's Venkatesh Shetty, astride an Aprilia SR 150 Race, successfully defended his title. He did it with pure elan recording the fastest lap of the day with a time of 5 minutes and 57 seconds in his second jaunt. He managed to finish all three stages in a duration of 19 minutes and 13 seconds. Fellow Mumbaikar Zeeshan Sayed, also riding an Aprilia SR 150 Race, took the second spot. TVS Racing's Syed Asif Ali finished third with his TVS Ntorq SXR. Last year's second place finisher, Aprilia's Pinkesh Thakkar, was forced to retire after he suffered an eye injury caused by flying debris.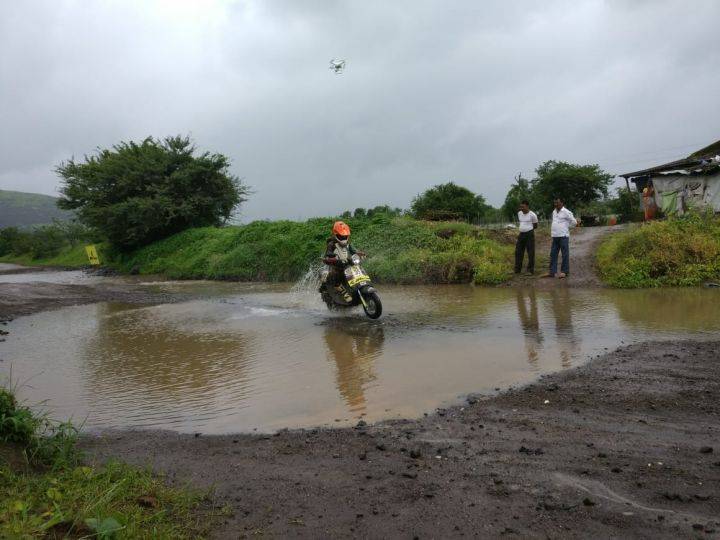 Unlike the course in Navi Mumbai, which spanned a distance of 35km, the new course was just a 5km loop on which three stages were held. While the route map suggested a dirt track, hours of torrential downpour ensured that there was enough slush, muck and running water to take the difficulty level a notch higher. To the shutterbug's delight, the final leg of the route had enough opportunities for faster riders to splash through standing water followed by chances to grab some air as well.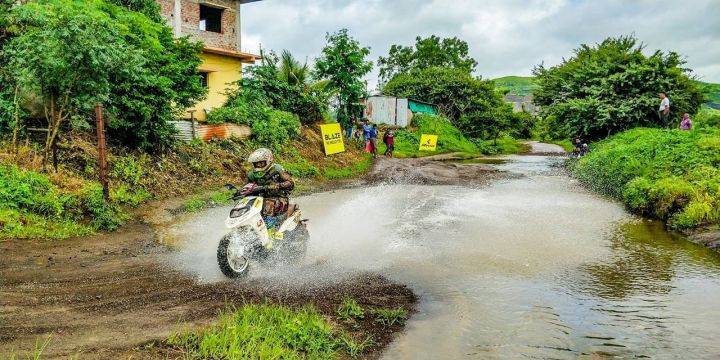 A total of 34 riders from Mumbai, Pune, Bhopal, Vadodara, Raigad, Panvel and Nashik took part in the rally. This included two women riders – Amruta Guruji and Priyanka Singh – who competed in the special Ladies Group B Open class. "I am very happy that we managed to pull off the rally. We barely had 10 days to put everything in place after our original venue had to be abandoned due to reasons beyond our control," said Shrikant Karani, the organiser of the event. "The competitors showed faith in our event and came over to Nashik and rode brilliantly to the delight of the local fans. The local association and the entire city gave us a lot of support," he added.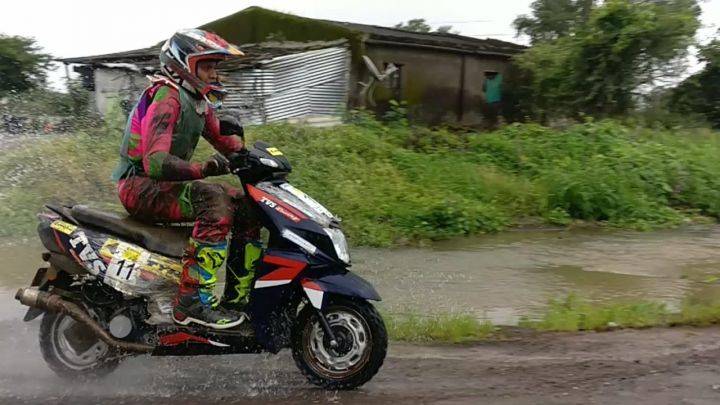 The event saw two major teams – Aprilia and TVS – compete with the SR 150 Race and the Ntorq SXR, respectively. Here's a quick look at results from each group.
Overall Winners: 1. Venkatesh Shetty; 2. Zeeshan Sayed; 3. Syed Asif Ali
Above 80cc Upto 110 CC – S1 — 2 Stroke (Group B): 1. Rohan Thakur; 2. Nilesh Thakare; 3. Mohasin Shaikh
Scooter Above 110cc Upto160 CC S2 — Geared Scooter (Group B): 1. Manjit Singh Bassan; 2. Chinmay Bisht; 3. Vicky Jaskaransingh
Scooter 80cc To 210cc (S-1 to S-3) — 4 Stroke (Group B): 1.Venkatesh Shetty; 2. Zeeshan Sayed; 3. Syed Asif Ali
Ladies Class -Open (Group B): 1. Priyanka Singh; 2. Amruta Guruji
Best performance by a first timer In two-wheeler rally: 1. Niraj Wanjale; 2. Saddam Hussain Vanniyar; 3. Sachin Khengle.
Source: Car Dekho
For more news updates Follow and Like us on Facebook